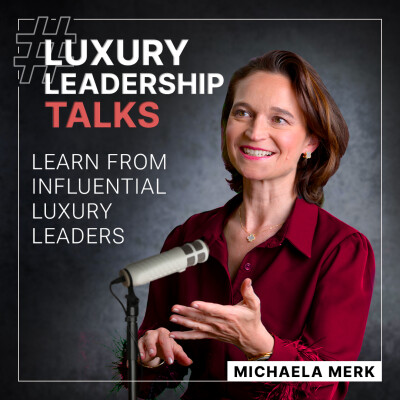 0 episodes
0 downloads
Luxury Leadership Talks by Michaela Merk
In her Podcast and Videocast "The Luxury Leadership Talks", Dr. Michaela Merk meets leaders of the most legendary luxury brands and institutions who make the difference today and impact the future. 
Luxury is one of the most global and powerful industry sectors, creating desirability and brand value across the world. It has not only shown its ability to create strong brands like Hermès, Cartier, Louis Vuitton or Chanel which last over decades, but also brands which resist the most severe crisis in a fast-changing world.
You will learn about brand strategies, leadership skills, visions of successful CEO's who discuss with Michaela hot topics like sustainability, innovation, creativity, customer experience, digitalization and share their own tips how to succeed in a demanding yet fascinating industry.
As CEO of Merk Vision  , award winning public speaker, consultant and professor, Michaela had the chance of advising and collaborating with the most successful brands in fashion, beauty, wine and spirits, hospitality, watches and jewelry, real estate and more. Through her interviews she wants to share this knowledge of the best and provide positive examples on how to become an impactful and responsible leader in luxury, a sector where excellence is key.
To go deeper into the topic, Michaela Merk has published several books, including the best seller:
Luxury Salesforce Management: Strategies for winning over your Brand Ambassadors (Palgrave McMillan) and its French version "Manager les vendeurs du luxe: Stratégies pour créer des ambassadeurs de marque." (Dunod)
To buy the book, click here: https://rb.gy/vewja3
Sharing the luxury expertise not only with professionals but also students is a key motivation to Michaela. As Professor in Marketing at Audendia Business School she shares her knowledge in this field and combines it with the school's core expertise in sustainability.