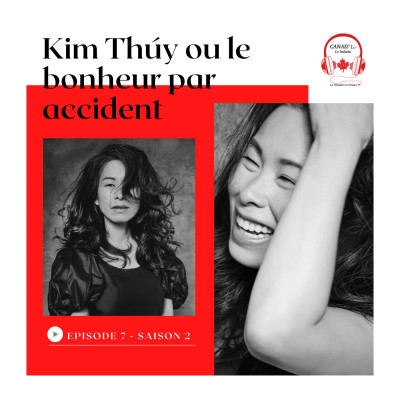 Bienvenue sur Canad'Air, le balado du Canada en France. Je suis Marie Cousin et je vous propose aujourd'hui, un voyage entre le Vietnam et le Canada avec une guide de choix : l'écrivaine québécoise Kim Thuy.

Kim Thuy a 10 ans lorsqu'elle et sa famille doivent fuir la guerre du Vietnam. Nous sommes en 1978. Elle fera partie de ceux que l'histoire nommera les "Boat People". Après plusieurs mois dans un camp de réfugiés en Malaisie, après avoir tout perdu et même plus encore, sa famille est sélectionnée par le Canada pour être accueillie au Québec.

Diplômée en traduction et en droit, Kim Thuy a travaillé comme couturière, interprète, avocate, restauratrice et chroniqueuse culinaire pour la radio et la télévision. Aujourd'hui, elle vit à Montréal, se consacre à l'écriture et à sa mission principale : éclairer un peu la noirceur de ce monde. Ses armes secrètes ? La poésie, l'humour et l'amour !

Ensemble nous avons parlé de la douleur de l'exil, de la chaleur de l'accueil, de femmes fortes, du goût de la liberté…. Mais aussi de la meilleure marinade au monde ! 
Pârêt pour le décollage ? C'est parti !  

Réalisation et narration: Marie Cousin, Ambassade du Canada en France et Centre culturel canadien en France.
Production: Studio La Fugitive

Extraits de Ru (Éditions Liana Levi, 2010).
English version
Welcome to Canad'Air, the podcast from Canada to France. I'm Marie Cousin and today I'm going to take you on a journey between Vietnam and Canada with an extraordinary guide: Quebec writer Kim Thuy.  
Kim Thuy was 10 years old when she and her family had to flee the Vietnam War in 1978. She would then become one of the "Boat People", as History books often write it.
After several months in a refugee camp in Malaysia, after having lost everything and even more, her family was selected by Canada to resettle in Quebec. 
Kim Thuy studied Translation and Law. She worked as a seamstress, interpreter, lawyer, restaurant owner and food writer for radio and television. Today, she lives in Montreal, dedicates herself to writing and to her main mission: shedding some light on the darkness of this world. Her secret weapons? Poetry, humour and love! 
Together, we spoke about the pain of exile and the warmth of being welcomed, about strong women, about the taste of freedom .... But also about the best marinade in the world!  
Ready for take-off? Let's go!